15 Effective Tools for Visual Knowledge Management
10 May 2009 8,474 views 36 Comments
Hello there! If you are new here, you might want to subscribe to the RSS feed for updates on this topic.
5. MindRaider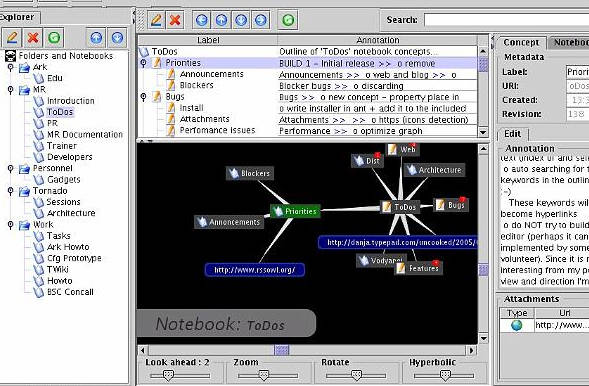 Link: http://mindraider.sourceforge.net/
Platforms: Java - Win, Mac, Linux
Cost: Free (Open Source)
MindRaider is personal notebook and outliner. It aims to connect the tradition of outline editors with emerging technologies. MindRaider mission is to help you in organization of your knowledge and associated web, local and realworld resources in a way that enables quick navigation, concise representation and inferencing.
4. Scan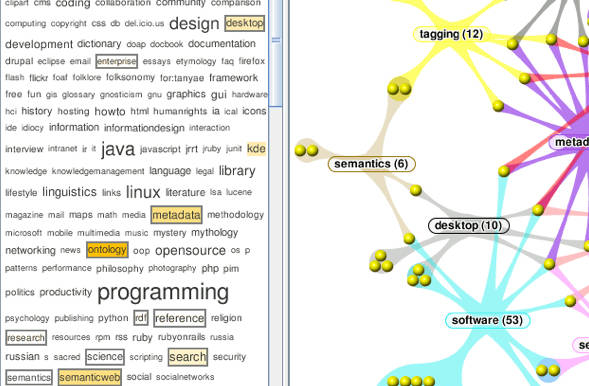 Link: http://scan.sourceforge.net/
Platforms: Java - Win, Mac, Linux
Cost: Free (Open Source)
SCAN (Smart Content Aggregation and Navigation) is a personal semantic content manager for desktop users. It combines search, text analysis, tagging and metadata functions to provide new user experience of desktop navigation and personal document management.

SCAN aims at problems of personal content organization and findability in information overload age.
See: http://eric-blue.com/2008/05/18/document-management-systems-scan-smart-content-aggregation-and-navigation/
3. Topicscape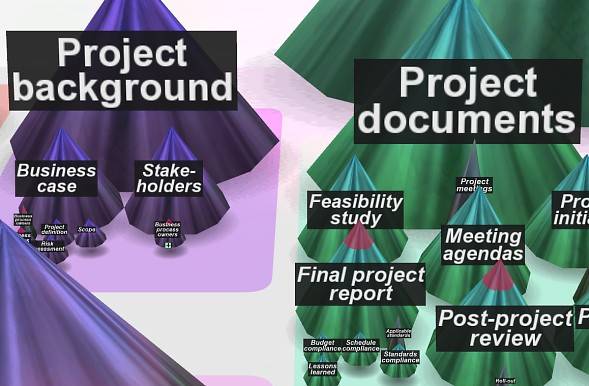 Link: http://www.topicscape.com/
Platforms: Win
Cost: $49.99 (Lite version) / $109.99 (Pro version)
3D Topicscape is personal software designed to help you manage information in a unique way. It grew out of the mindmapping way of thinking but now makes information organizing a 3D activity available to everyone. Even if you've never heard of mindmapping you'll quickly understand what its 3D landscapes are about and see how it helps you save time and find information quickly.

It's not just about organizing information more efficiently, though. Once you've used this, you'll never want to go back to 2D:

* You will see exciting new relationships between elements of your information that were there, but simply haven't shown up before;
* you will spot what you're looking for by recognizing where you are for with the 'sense of place' that we all use every day in our 3D world;
* you can identify items more precisely from descriptions that you add yourself to files and topic. Searching can include these descriptions;
* you can go inside the 3D cone of a topic and find the items relating to that topic (occurrences) that you've put there;
* you can place the same item in several places, without the need to make copies or shortcuts and therefore find them more easily. How often have you puzzled where to put a document - being torn between two or more places where it seems to fit logically? Here now, is the answer.
2. TheBrain (PersonalBrain)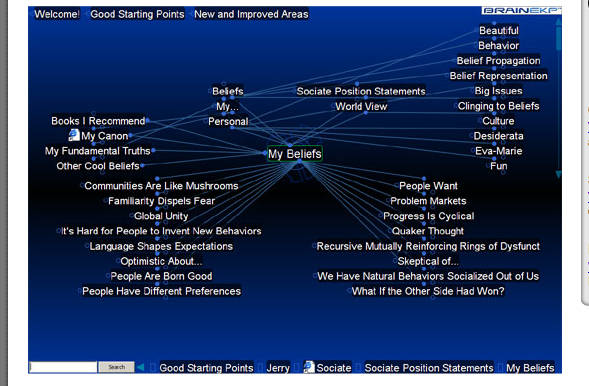 Link: http://www.thebrain.com/
Platforms: Win, Mac, Linux
Cost: Free, $149.95 (Core), $249.95 (Pro)
PersonalBrain helps you organize all your Web pages, contacts, documents, emails and files in one place so that you can always find them - just like you think of them. This saves you time and makes your life easier! With PersonalBrain you can even find related items that you worked on, but forgot existed.

* See relationships and connections between key concepts and ideas
* Eliminate digging through files and folders to find what you need
* Link all related information by topic, project, and idea
* Quickly drag and drop files and Web pages into a single unified concept map
1. MindManager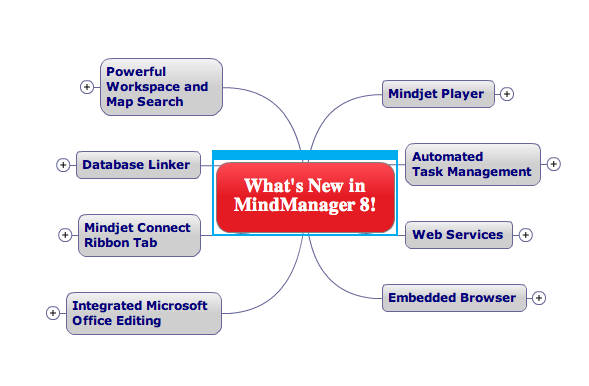 Link: http://www.mindjet.com/
Platforms: Web, Win, Mac
Cost: $10/month/user (MindJet Connect - Web), $349 (MM8 Win), $129 (MM7 Mac)
Mind maps created in MindManager are based on the mind mapping method by Tony Buzan. The latest version, MindManager 8, is available for Microsoft Windows only, though previous versions supported Mac OS X and files created in the most recent versions are compatible with both platforms. In 2008 Mindjet introduced Mindjet Connect, an online collaboration service with centralized storage, Instant Meeting, and communications features. Connect is accessible with MindManager 8 on Windows and via MindManager Web, a Flash-based client.

Features include support for manual and automatic task management, filters, an open API, and RSS support. Maps can pull data from Microsoft Excel and Outlook, and can be exported to Word, PowerPoint, Visio and Project, as HTML web pages, as an embeddable Player, and as PDF documents.[1]
Well, there you have it, my collection of unique and effective tools for visual knowledge management! I've picked these applications out of a huge list that I've researched over the last few years, however it is by no means comprehensive. Please feel free to comment and contribute with other recommended tools.
Related Links
* My Personal Memex - My own personal knowledge management project with a focus on visual presentation (tag clouds, embedded mindmaps, timeline browsing, etc.)
* Mind-Mapping.org - An impressive and comprehensive collection of tools related to mind mapping, concept mapping, and information organization.
Tools Recommended by Readers
Updated: 06/12/09
I've covered a lot of ground with the 15 tools listed here, but this is my no means a comprehensive list. Since I wrote the article I've had a number of comments and emails giving recommendations for some other interesting tools. I've decided to consolidate your feedback and maintain the list of other top tools here (given that they meet the criteria for visual knowledge management tools). Thanks for all of your feedback!
Mind Mapping Tools
* ConceptDraw - Mind Mapping application for Mac
* FreeMind - Open source mind mapping application (Java)
* Mind Mapper - Commercial mind mapping application for windows
* MindMeister.com - Web-based mind mapping application
* XMind - Open source mind mapping application with online sharing (Win, Mac, Linux)
Misc.
* amode (mindsystems) - Flexible visual information manager for Windows
* Ceryl - Intriguing looking knowledge manager (looks similar to MindRaider). Note: no download available yet
* ConnectedText - Personal wiki system with visual navigation for Windows
* Curio - Visual thinking aid: notebook, whiteboard, sketchbook
* Inspiration - Visual thinking and learning tool
* TiddlyTagMindMap - Visual graph (mindmap) navigation on top of TiddlyWiki for personal knowledge management